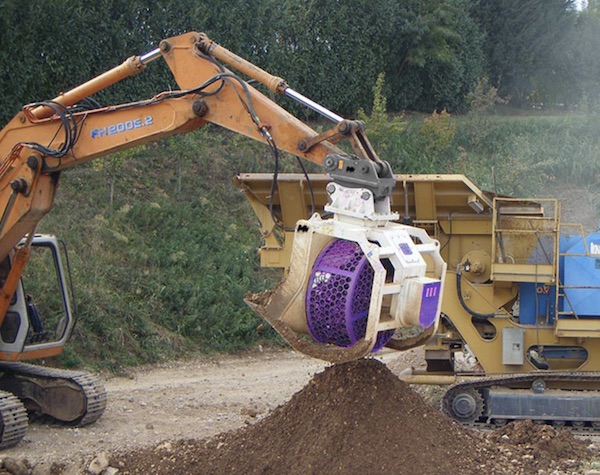 Mazio Attachments
8 Main Product Line, for every excavator, front loader, mini excavator, skid steer loader, dozer, tractor, crane, telehandlers and other. All Makes, All Models.
We are the only purple tool...
Fully compatible with any color of construction equipment
That replaces all other colors
Manufactured with Hardox and Strenx steels
On-site delivery
Growing inventory
Always free training
Quick contact
To guide your path, we developed MazioApp, an application where you can access what you need immediately.
Mazio Compact Equipment Attachments
Compact equipment attachments for road maintenance, excavation, civil works, and utility tools.
Road Maintenance
SKID Paver, Broom / Sweeper, Cold Planer, Vibratory Roller, Dozer Blade.
---
Excavation
Backhoe, Fixed - Arm Backhoe, Rock Bucket, 4:1 Bucket, Trencher, Auger.
---
Civil Works
Cement Mixer, Screening Bucket, Crusher Bucket, Pallet Forks, Industrial Grapple, Steel Tracks.
---
Utility Tools
ISO24410 Adapter Plate, Hydraulic Hammer, Low Density Bucket, Shredder Head, Mulcher Head, Rototiller.
Mazio Grab Experts : Hydraulic Grapples
Multifunctional Grabber, Clamshell Bucket, Rock Grapple, Orange Peel Grapple, Log Grabber, and Excavator Magnet. Robust and powerful, perfectly suited for tough applications, Mazio grapples made made to accomplish the requirements of the most demanding jobs. 
Sorting & Handling
GR Series, Multifuntional Grabber.
---
Scrap & Metal
Scrap Polyp Grabber, HD Scrap Polyp Grabber, Hydraulic Elecrtromagnet, Hydraulic Shear.
---
Handling, Excavating & Dredging
Hydraulic Rock Grab, Digging Clamshell Bucket, Loading Clamshell Bucket.
---
Railroad Works
Tamping Grabs Railway, Digging Buckets, Grabs for Sleepers, Grabs for Rails.
---
Mazio Demolition Tools for Professionals
Primary Demolition RS Series Excavator up to 140 - ton, Secondary Demolition RV Series Excavator up to 140 - ton., Multiprocessor MC Series with interchangeables jaws Crusing, shear, pulverizer, FPV Series Excavator up to 140 - ton. Robust and powerful, perfectly suited for professional applications. 
Mazio Hydraulic Recycling Tools
Hydraulic Shear, Crusher Bucket, and Screening Bucket
Find out more about Mazio attachments
---
Give us a call (253) 678-4165